Large Facility Air Compressor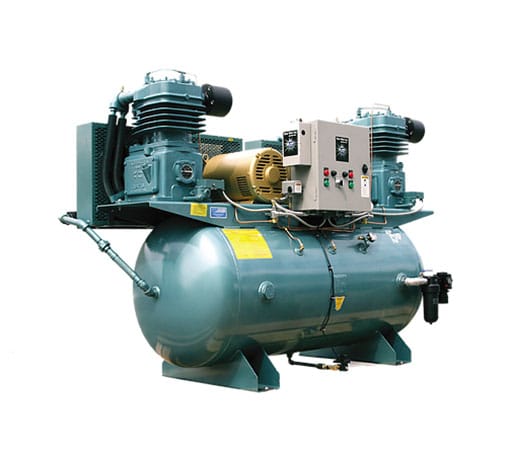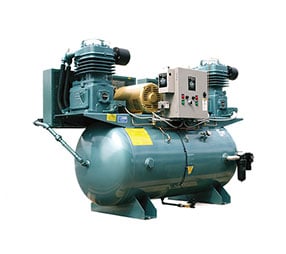 Tech West large facility air compressors lead the industry in design, quality and performance providing clean, oil free, dry air to the dental office. Compressors have energy efficient motors, totally enclosed OSHA approved fan guard, magnetic motor starters with overload protection, discharge air coalescing filters and regulator. The large facility compressors come with refrigerant air dryers. All compressors are wired for 24V remote switching and are ready for installation. Tech West will provide technical assistance with plumbing and electrical needs upon request.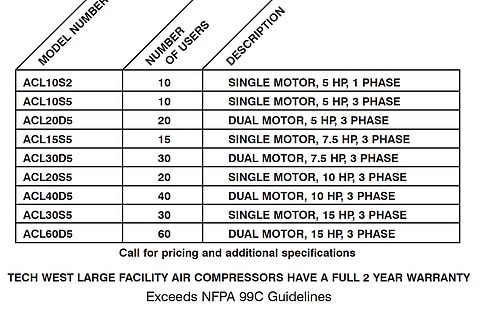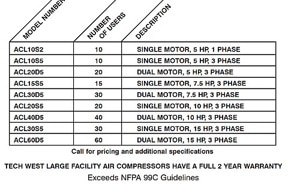 Ultra Clean Oilless Compressor
Our Elite Series Oilless Air Compressor system provides the advantages of proven technology, durable construction, quiet operation and oil-free performance with the latest in energy-saving features. This is important to you as an environmentally responsible business owner.


Elite Series Rocky Oilless Air Compressor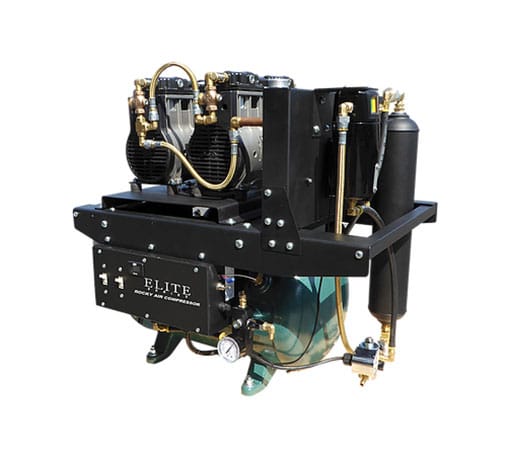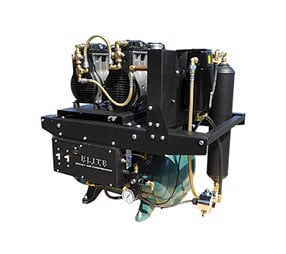 The Tech West Rocky Series Oilless Air Compressors provide 100% oil free air to the dental office. With our high performance air drying system, we guarantee the clean dry air you expect. The design of the Tech West Rocky Series Air Compressor provides smooth, quiet, vibration free operation at only 65 dB-a noise level. We offer them in a twin configuration to meet most any need of today's Dental Practice. Tech West will provide full plumbing and electrical design upon request.


Large Facility Eco Dry-vac Systems
Tech West Large Facility EcoVac Vacuum Systems are on the leading edge of technology in design and performance. These high performance vacuum systems are designed to provide continuous suction while moving large amounts of air. We use a turbine type blower that is very quiet. The energy efficient motors are maintenance free. The centrifugal vacuum is a skid mounted design that is pre-plumbed and pre-wired and is completely self contained and ready for installation. These high performance units range in size from 2hp to 30hp with air flows ranging from 20 scfm to 1200 scfm while holding 8 inches of mercury.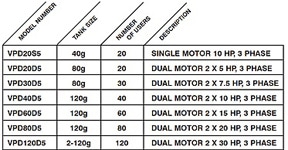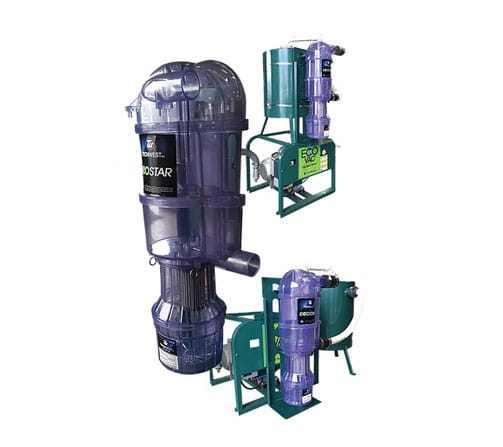 Eco-Star Amalgam Separator
The ECO-STAR AMALGAM SEPARATOR systems are on the leading edge of technology in design and performance
Designed to serve up to 10 chairs
Easy filtration of Amalgam, Mercury, Alloy and other waste particles.
The ECO-Star® Amalgam Separator boasts a high containment capacity for extended service and pump life, cutting-edge cyclonic design with rapid velocity and waste capture. There are less parts, reducing potential leak and failure points and a fully molded design offering a clear view of the system in action. With ISO 11143:2008 certification by NSF, meeting Best Management Practices (BMPs), and over 99% removal, ECO-Star® high efficiency cyclonic vacuum filtration solution leads the way in advanced vacuum filtration while also complying with the rigid amalgam separation requirement.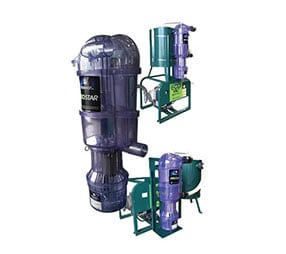 Whirlwind Liquid Ring Vacuum Pump
Tech West Dental Pumps have proven to be unsurpassed in technology and performance providing a vacuum system you can rely on for years to come without expensive repairs or maintenance costs. Whirlwind pumps are available in single, dual or triple configurations. Air-water separators and water recyclers are also available for all pumps. Tech West Liquid Ring pumps carry the longest warranty in the industry. Tech West will provide technical assistance with electrical and plumbing design upon request.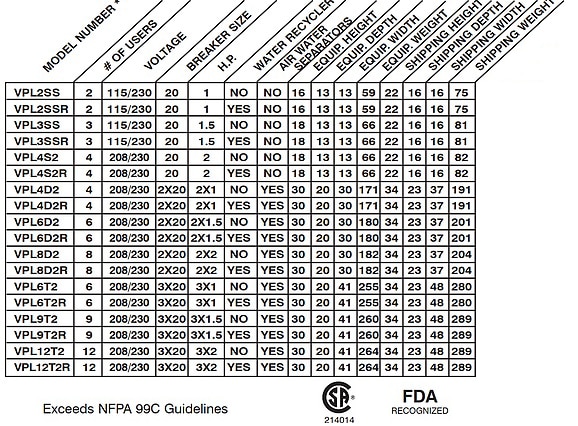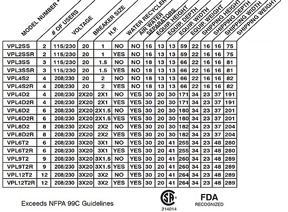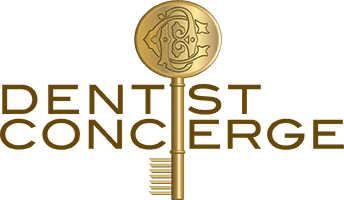 VISIT US
---
Dentist Concierge
395 Steelecase Rd. East, Unit B,
Markham, Ontario
L3R 1G3
HOURS OF OPERATION
---
Monday: 9:00 am - 5:00 pm
Tuesday: 9:00 am - 5:00 pm
Wednesday: 9:00 am - 5:00 pm
Thursday: 9:00 am - 5:00 pm
Friday: 9:00 am - 5:00 pm
Saturday: Closed
Sunday: Closed